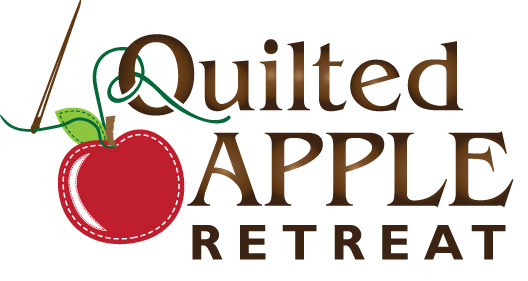 The Quilted Apple Retreat
Call or email for information about availability: 858-735-5862
Accommodations | Dining | Pricing | Policies | Directions | more info
Country quilting, downhome accommodations & delectable dining.
Join us for a quilter's getaway, complete with good friends, delicious dining, and comfortable accommodations, all situated in the heritage-rich Fenton family's Sandy River Apple Orchard. The Quilted Apple Retreat offers you and up to eight of your friends the opportunity to quilt in a restored and renovated spacious 200 year old "shot gun stock" barn.
Located 2 miles off of Route 2 in the town of Mercer, The Quilted Apple Retreat is located on the heritage-rich Fenton family farm, nestled along the banks of the Sandy River near Skowhegan and Farmington. The Fenton farm has seen six generations attend to its needs and is surrounded by 200 acres of pine forests.
Accommodations provided in the "Quilter's Quarters" a 1790's farm home located just across the street from the barn. Join us to quilt and enjoy old-fashioned New England hospitality, nestled in tradition and the history of a Maine apple orchard. Accommodations details
Quilter's are welcomed Friday after 12:00 noon and enjoy a "Sip and Dip" cocktail hour that evening in the barn with heavy hors d'oeuvres, desserts and drinks. On Saturday, breakfast, lunch and dinner will be served as well as a brunch Sunday morning. Quilters are also welcome to bring their own food and make use of the full kitchen in The Quilter's Quarters.
Sunday afternoon quilters are welcome to stay and sew until the 2:00pm check-out time.
Ironing boards and irons are provided, as well as an area for cutting and laying out your pieces. Please make use of the several design walls. Be sure to bring your cutting mats, rotary cutters, rulers and sewing machines. We also recommend bringing a chair pad, ott light, power strip, and snacks to share if you wish. Coffee, tea and hot water are available all day.
Between Sept. 15th and October 30th each guest will receive a complimentary peck of freshly picked heritage apples from our orchard. You may also choose to enjoy the full orchard experience and pick your own.
Sleeping accommodations in our guest house "The Quilters Quarters". The Quarters comfortably sleep 8* and are located across the road from the barn:
2nd floor has 4 single beds
1st floor bedroom double bed and a single bed
2nd bedroom on the first floor 2 single beds
2 full baths on 1st floor
Kitchen
Dishwasher
Microwave
Coffee Pot
WiFi
All linens and towels are provided
*8 sleep comfortably. A larger party of 9 or 10 may be accommodated, however, it will require sharing of beds.
Quilters who choose the all-inclusive package may choose from three menu themes for their stay: Mexican, Italian or Down-Home Cooking.
Sample menus:
Mexican: Chicken Enchiladas, Taco Salad, Spanish Rice, Beans, Cheesecake and mexican beverages
Italian: Spaghetti Casserole, Stuffed Shells, Green Salad, Garlic Breadsticks, Grilled Italian Veggies, Death By Chocolate and italian beverages
Down-home Cooking: Baked Macaroni and Cheese, Green Bean Casserole, Chicken Pot Pie, Mashed Potatoes, Corn, Biscuits, Gravy, Apple Pie and classic down-home beverages
The all-inclusive package with five meals and lodging for two nights is $1,400 for up to 8 people. Choose to bring your own food for $1,200. This is usually a Friday through Sunday stay, however, we welcome mid-week guests as well. Additional nights are $600 with food/$500 without food. Additional quilters (up to 10) are $175pp with food and $150pp without food for two nights.
We welcome a maximum of 10 guests.
A 50% deposit is due with reservation and the balance is due 30 days prior to arrival.
Cancellations with a full refund of the deposit are accepted until 60 days before arrival. Cancellations after the 60 days will be refunded minus a $50 administrative fee only if a different, comparable party books the reserved weekend.
Arrival time is Friday (or day 1) after 12:00 noon
Departure time is Sunday (or day 3) before 2:00pm
No smoking on the property
No pets
If you would like a different time scenario for your retreat, accommodations can often be made. Please call Carol to discuss.
For more information or to reserve your getaway, please email Carol at info@sandyriverapples.com or call 858-735-5862